Electric Cars Vs Electric Bikes, How Should We Choose?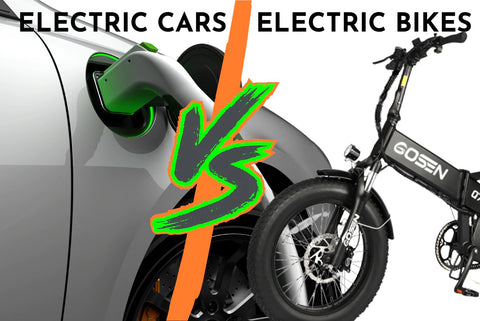 Electric cars

The largest source of greenhouse gas in the United States stems from the transportation industry (27%). The Biden administration recently passed an infrastructure bill that will allocate $7.5 billion in order to build more EV charging stations in an attempt for more people to adopt electric modes of transport and ditch gas-powered vehicles. This tactic will allegedly assist in reducing carbon emissions and fight global warming.
Electric bikes
Without a doubt, electric bikes can become a truly practical solution to oppose climate change, a realistic alternative, and a reliable option for those looking to implement electric mobility into their daily life.
Gosen offers an extensive range of affordable, high- quality electric bikes and accessories. Our e-bikes range anywhere from $1,399- $5,228.
We've set our products at reasonable prices so they can be accessible to anyone who wants to invest in electric mobility. Our e-bikes have been designed to last and give riders the power to be confident.